rticles and essays
Tolkien's philosophy and theology of death - Christopher Garbowski


The article is concerned with high and low theology of death in Tolkien's writings and its role in Middle-earth.

Reinterpretation of the heroic ideal in Tolkien's writings on the basis of selected fragments of The Lord of the Rings - Łukasz Neubauer


The text is devoted to Tolkien's redefinition of the notion of heroism in the context of medieval literary traditions, the point of reference being The Battle of Maldon.

All things considered, they shouldn't be called by name. Proper names' magic in Arda - Zofia Żółtek 'Lassemista'


This is an attempt at showing Tolkien's approach to the question of the magic role of proper names in the universe he created. The subject of analysis are numerous examples from The Lord of the Rings and The Silmarillion.

The Necromancer's necromancy. Black magic, possession and zombie - Jakub Tymiński 'Ominous'


The article deals with the broadly conceived necromancy and death magic in Middle-earth on the basis of the comparison of the English term "Necromancer" and the Polish term "nekromanta"

Éomer's classical sources? Éomund's son vs. young hero figure in antiquity - Łukasz Szeląg 'leszli'


The article aims at explaining Éomer in the context of his transformation from an aspiring hero to a full-fledged hero and ruler. The analysis shows his similarity to young Greek heroes, thus pointing to Tolkien's classical inspirations


anfiction and poetry
Gaffer Gamgee's Bedtime Story - Zosia Stanecka 'Nasturcja Gamgee'


The story is exceptionally told by Rose, who tells how the brave Hamfast tried to take care of three little Hobbits and what came out of it.

The last queen - Tekla Cichocka 'Tici'


A story about Fíriel, Ondoher's daughter and Arvedui's wife, told by herself.

eviews and interviews
The Hobbit: The Battle of the Five Armies a collective review of the film by the editorial staff


An interview with Thomas Honegger conducted on behalf of the editorial staff and translated by Łukasz Neubauer, Ph.D


"What to make of this Hobbit?" a polemic against Maria Błaszkiewicz's article by Tadeusz Andrzej Olszański 'Halbarad Dúnadan'


"What to make of this Hobbit?" Maria Błaszkiewicz's answer to Tadeusz Andrzej Olszański's polemic


"A few more words on Gil-galad's paternity" – a polemic by - Michał Leśniewski 'M.L.' against Barbara Cecylia Liwo's article "Gil-galad – a paternity case"


J.R.R. Tolkien's Beowulf by Arletta Chwojnicka 'Eilíf'

J.R.R. Tolkien, Beowulf. A Translation and Commentary together with Sellic Spell, HarperCollinsPublishers 2014, ISBN: 978-0-00-759006-3.


D. Day's A Tolkien Bestiary by Karolina Stopa - Olszańska 'Melinir' ("Beasts, plants, creatures, and miraculous occurrences")

David Day, Bestiariusz Tolkienowski, tł. R. Giedrojć, J. Kokot, J.Z. Lichański, Zysk i S-ka, Poznań 1996, s. 224, ISBN 83-7150-068-8.


J. Pearce's Bilbo's Journey by Tadeusz Andrzej Olszański 'Halbarad Dúnadan' ("Bilbo, or rather his 'biographer', astray")

Joseph Pearce, Podróż Bilba. Chrześcijańskie przesłanie "Hobbita", eSPe, Kraków 2014.


The extended DVD edition of The Hobbit: The Desolation of Smaug by Agnieszka Sylwanowicz 'Evermind HS Took' ("A new trend in blockbusters?")


There is a hobbit genealogical crossword puzzle designed by Karolina Stopa-Olszanska 'Melinir'. You will find also Tolkien news from Poland and abroad.


llustrations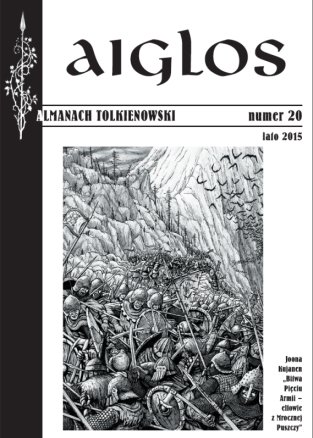 back